An Evening With Dejan ‐ 27th June
In case you haven't heard Dejan is hosting an evening of SEO with talks on SEO News, the latest Algorithm issues, Website Analysis (which I'll be explaining more about in a moment), Trouble shooting and a Live Q&A.

You'll have the chance to hear our headline speaker and Dejan SEO founder, Dejan Petrovic, a respected voice in the industry, talk about SEO in 2012. Members of the Dejan team will also be talking about the various technical and strategic elements of a successful SEO campaign and we will also be seeing to surprise guest speakers talk about WordPress SEO and keeping up with the Algorithms.
Live On Site Technical Analysis
At the event we will be performing a live 15 minute technical analysis of several attendees sites. This should give you an insight into how we perform site audits for our clients and how you can check your own site for areas of improvement. We'll be using some of the following SEO site audit tools to speed up the process and we recommend you take a look yourself.
Screaming Frog
As well as having a cool logo Screaming Frog is a really useful desktop based SEO tool which you can use to crawl your site. It has an easy to use GUI and pulls information about titles, descriptions, meta tags, canonical links, headings, links and more. This tool saves hours when conducting a comprehensive site audit as you don't need to navigate to individual pages to see whats going on.
The free version can crawl up to 500 URLs per site. If you need more than that then you can probably afford the enterprise version at only $159 which is a bargain for the amount of time it will save you.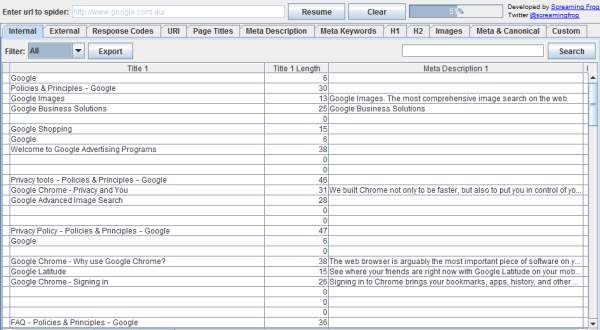 Advance Search Queries
Advanced search parameters are one of the most basic and useful SEO audit tools you have at your disposal. They allow you to filter results using various commands and parameters. Advance queries include but are not limited to:
site:[ExampleURL]              Brings up all the indexed pages on Google matching the input URL
inurl:example                        Brings up all the pages with input string/word in the URL
intitle:[example]                   Brings up all the indexed pages with string/word in the title
–                                                    Excludes pages matching that command
or                                                 Excludes results where pages contain both commands/strings
+                                                   Excludes pages which don't match both commands
How can these help you perform a site audit? I start by doing a "site:[url]" command and looking through the results. Look for URLs you don't recognize or that appear long and complex. Click through to the page and see if it's obviously duplicated from another page. If it's hard to tell, highlight a paragraph of the text and perform a search on Google. This should help you identify if content is duplicated on the same domain or externally.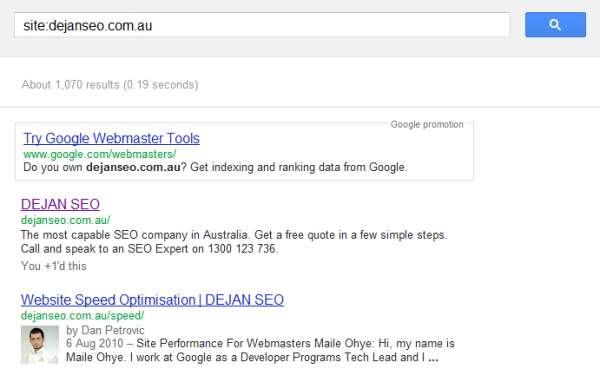 You can also use the '-' command in front of the 'site:' command to exclude subfolders. eg:
site:example.com -site:example.com/index.php
This search query show all URLs for a site except those in the subfolder /index.php. This allows you to determine how many of these pages are indexed and can give you an impression of the the level of duplicate or low value content in the index.You can work through the results until you only see the preferred versions of each URL. This can help you find some quick wins in terms of reducing duplicate content created by a sites CMS.
Copyscape ‐ Duplicate content detection
Copyscape is another fantastic, mostly free tool which searches the internet for duplicate content and provides an estimate for the degree of similarity then highlights the copied text. Similar to doing a Google search but with the added benefit of clearly showing what is copied. Also good for showing to clients or managers to illustrate that duplicate content is recognized.
Jing -Take Great Screenshots
Not strictly speaking an audit tool, Jing is a useful for taking a screenshot and quickly annotating them making it easy to show clients, managers, developers what you can see and giving direction for changes.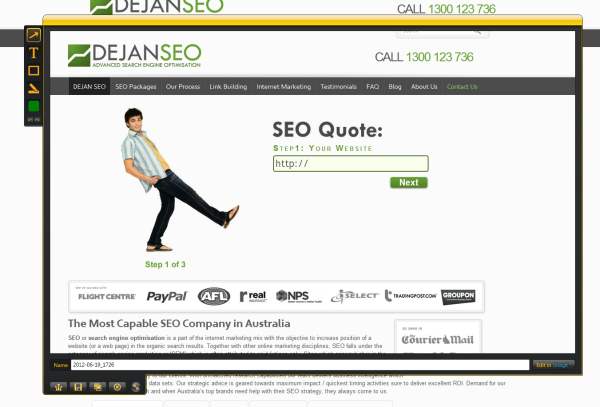 Google Chrome
Like many SEOs were big fans of Google Chrome. It's simple, fast and effective. Not to mention it has the following extensions which make conducting a site audit much quicker:
SERP Preview Tool
Dejan SEO has it's own SERP preview tool which is available both as a Google extensions and as web based form. This is fantastic for fine tuning titles and getting a feel for what they'll look like in the results.

Canonical Link
This Chrome extension hides in the URL bar until you navigate to a page with a canonical link where it will suddenly appear. If you hover over it it will show the destination URL. This saves a great deal of looking around in source code.

NoFollow
This handy extensions pops up when there is a noindex or nofollow on the page. It also highlights individual no follow links. Another source code avoiding time saver.

What Tools Do You Use?
These are just a few of the main tools we use for conducting site audits. We're keen to hear a few of yours. Let us now on our Google Plus Page or come and speak to us at our event on the 27th of June.
Event Schedule:
7:00 – 7:45 – Main Session: How to do SEO in 2012
7:45 – 8:00 – Guest Session: Quick Guide for WordPress SEO
8:00 – 8:15 – Technical Session: Live Website Analysis
8:15 – 8:30 – Strategy Session: Managing Risk of Penalties
8:30 – 8:45 – Link Building: How to get awesome links?
8:45 – 9:00 – Ask Dejan: Q&A