Ever wondered how to make your website lose rank and disappear from Google? Everyday we see websites that are suffering from or risking the possibility of penalties and being banned from Google and other search engines. Not knowing the risks could cost you time and money. These are our top tips on how to disappear from Google.
#1 – Build Loads Of Spammy Links
Links in and links out are an indicator of quality to search engines. If you want to show Google that your site is low quality and of little value to users, start adding links to dodgy websites in your pages. If you really want to do badly you could use CSS to hide them. Once your done with that, find a cheap automated backlink service which will build you 1,000,000 links for $99, all with the same anchor text.

#2 – Hide Text On Your Page
Having content on your site helps search engines understand your site but if you want to do badly in search engines you'll need to hide it. You can do this by making the text the same color as the background/hiding it under a picture/text indent of -9000000px. Genius! Not only will search engines see the text, but they'll be able to see you've hidden it as well. That's a penalty coming your way.
#3 – Create 100's of Identical Pages
Want to target loads of different areas but don't want to create a fresh page for each one. Simple, copy one page and change the place name on each one. Not only will you annoy users, search engines will detect your duplicate content and penalize your site in the search results. Say hello to page 100, if your lucky.

The site in the example uses a link to every state, with each of the state pages linking to every town and city in them, with each of those pages identical to each other but with the respective place names. This kind of low value, highly duplicated content looks bad to the search engines (as well as people) and is a sure fire way to reduce ranking. It's also worth considering what people will do once they get to your site. If it looks like SPAM, chances are they won't stay very long.
#4 – Get hacked
So far all of the methods have involved work on your part. Why not get someone else to do it for you. Just get a bit careless with your login, or simply fail to change any of the default settings on your WordPress CMS and chance are someone else will be able to do it for you. Username: Admin Password: Letmein: anyone?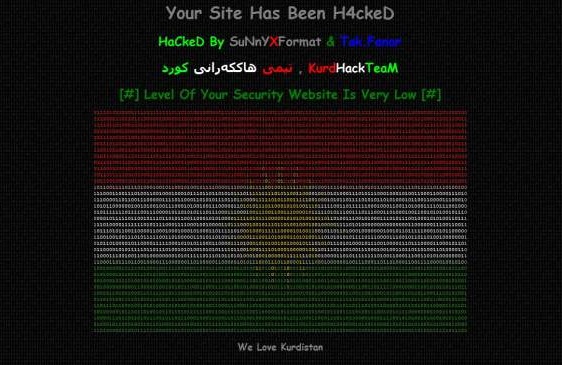 If you interested in finding out how to avoid having your WordPress site hacked do some reading and make some changes. It could save you a lot of time in the long run.
 #5 – Use Flash… And Only Flash
Whilst it won't get you banned, using Flash is a great way to prevent search engines from being able to see your content. It might be on it's last legs but it's still surprisingly common to see websites built entirely in Flash. Even if you don't build your entire site in flash, using it to create navigational menus can still help destroy ranking by making it harder for search engines to find other pages on your site. It's also worth noting that iPads and iPhones don't support flash, so if you are using it you could be missing out on some valuable traffic.
Discussion
Comment and Discussion on Google Plus. Where have you seen these tactics used?
References
Smith, S.E. "What Is A Bad Neighborhood". Wise Geek. 2012.
SEO Logic. "What Is Hidden Text. Can I Hide Text In HTML To Get A Top Ranking"
Google. "Cloaking, sneaky Javascript redirects, and doorway pages – Webmaster Tools Help"
Moongrabber. "Why Flash-based Websites are Bad"