For small businesses online, building quality links can be a daunting challenge. Not only do people seem to not want to link to you, but getting the wrong kind of links can see your site punished by Google with a penalty that'll leave you so far down the results no one will ever find you. And Google is strict on this, they even punished themselves when the team behind their Google Chrome browser bought links.
So how can a small business go about building links that aren't against Google's Webmaster Guidelines? Let's look at a few actionable ways of getting high quality links for your business.
Hold A Competition
Everyone likes a good competition. Depending on who you're targeting, and how big the prize is, you could receive a high number of social shares (eg: 'Likes' on Facebook) as well as links. Competitions you could run include, but are not limited to:
Photography of your local area, products, or customer. 
This one is great as it leaves you with lot's of great content to add to your site and if you use 'Likes' as a voting system, people will recruit their friends to like their photo/your business.
Modelling/Bachelor/Bachelorette
Great if you're in the fashion industry/gym/youth market. You'll need to offer a meaningful prize and host the competition on your own site. This would involve profiles of the competitors with a selection of photos and a bio and some way of voting using 'Likes' or Googles '+1'. This method is similar to the first as it gains social shares, but can also encourage links as people promote on blogs, social platforms, forums and their own websites.

Recipes Using Your Product
Another great way of develop content to garner long term links and social shares over the course of the competition. If you're in the food industry and have a loyal customer base, getting customers to send in their recipes, with a photo of the finished dish, shouldn't be to hard. This is obviously best suited to certain demographics but could be a great was of getting some immediate interest and subsequent sales with the likelihood of more links in the long run, once you have this great user generated content on your site.
Organize An Event
This one can take some work to organize, but is a very effective way of gaining links. For example, if you were to organize a Christmas Fair and set up a page on your website with important information about the event and some photos of the area with Christmas decorations, you would find that local businesses and organizations would link to your site. The key is to get as many stakeholders involved as possible. If you can involve the local community and show it's benefit to to them, people are very likely to go out of their way to help you. It's also important to make sure the page on your site isn't the same as all the other pages on your site. It should stand out as unique to the event. This is also another good opportunity to gain social shares, so don't forget to add some quick share buttons to this page of your site.

Support A Charity
It might not be in the spirit of things to expect links from a charity in exchange for funds, but supporting a local charity on a regular basis is an excellent way to general high authority links. Try and contribute in a consistent and meaning full way. It is likely that most charities will have  'supporters' page on their websites and many will link to you without questions. Some may require a relationship to be established, and after some time it may be appropriate to ask. But remember to explain the significance of having a link placed on their site. Being open and honest will avoid any difficulties later.
Speak Publicly
Speaking at universities and schools is both great for the local community and improving education, but also provides the opportunity for link building. Before you go and talk, prepare some slides or additional material and upload it to your server. Tell the lecturer you have some extra content on your site and they will often gladly ad a link to it from their university site. This can be a great source of a high value .edu or .ac link.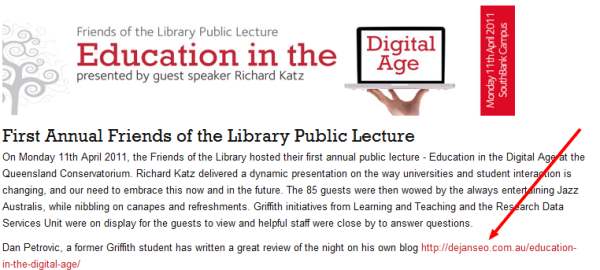 Governing Bodies/Suppliers/Customers
Each of these stakeholders have an interest in your business and will often have resources dedicated to their clients and suppliers. If you are able to develop some useful content about your product or service on your website these people will usually be glad to link to it. Ensure your content is of high quality, attractive to users and include as much detail about your product/service as possible. By doing this you make your content extremely useful and highly link-able.